INSTALLATION INSTRUCTIONS: PISTON RINGS
PLEASE READ ALL INSTRUCTIONS COMPLETELY BEFORE FILING RINGS
RING SET TYPES
STANDARD GAP
NO RING FILING SHOULD BE NECESSARY; HOWEVER, RING END GAPS SHOULD STILL BE CHECKED.
FILE FIT – SEE NOTES AND THE CHARTS BELOW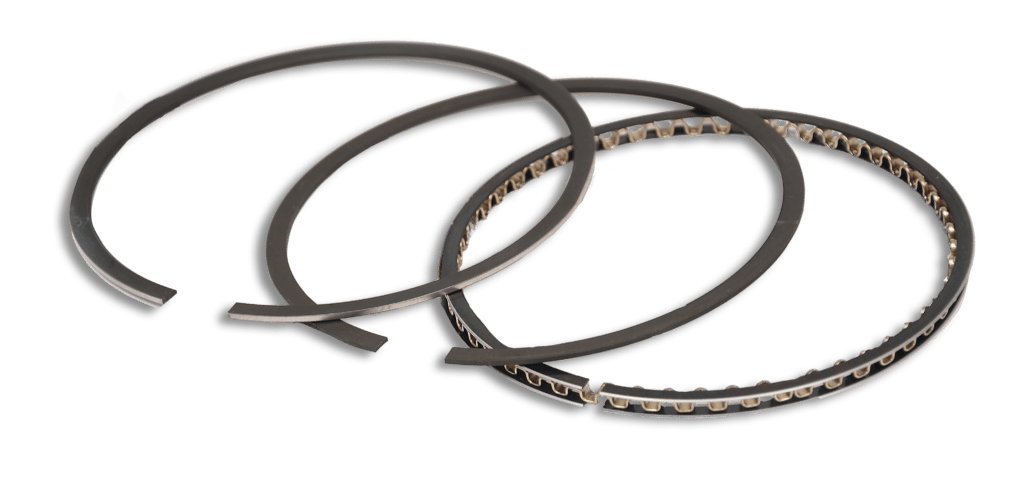 DUE TO CHANGES IN RING MANUFACTURING METHODS, MANY MOLY RINGS ARE BEING MANUFACTURED OUT OF STEEL WIRE.
IT IS NECESSARY TO CHECK THE RADIAL DEPTH OF THE GROOVE FOR EXCESSIVE BACK CLEARANCE.
NOTES
SUPERCHARGED & NITROUS ENGINES: THE AMOUNT OF END GAP REQUIRED DEPENDS UPON THE AMOUNT OF BOOST OR NITROUS APPLIED. A STREET ENGINE WITH 4 PSI OR 100 HP NITROUS WILL NOT NEED AS MUCH END GAP AS AN ALL-OUT RACE ENGINE WITH 40 PSI OR 800 HP NITROUS. PLEASE FILE RINGS ACCORDINGLY OR CALL US FOR ASSISTANCE AT (661) 702-1999.
HYPEREUTECTIC PISTONS: SOME BRANDS OF HYPEREUTECTIC PISTONS REQUIRE MUCH LARGER END GAPS ON THE TOP RINGS. PLEASE CONTACT PISTON MANUFACTURER TO SEE IF THIS ADJUSTMENT IS NECESSARY.
LOW TENSION RINGS: LOW TENSION RING SETS ARE NOT NORMALLY RECOMMENDED FOR STREET USE.
RING LUBRICATION: DO NOT USE MOTOR OIL. INSTEAD USE OUR SPECIALLY FORMULATED OIL (PART # AC-9900) FOR QUICK SEATING AND LONG LIFE.
SECOND RING GAPS: WHEN USING BACKCUT OR REDUCED RADIAL WALL COMPRESSION RINGS, RECENT TESTING HAS SHOWN THAT A LARGER SECOND RING END GAP INCREASES THE TOP RING'S STABILITY ALLOWING FOR A BETTER RING SEAL. THIS LARGER "ESCAPE" PATH PREVENTS INTER-RING PRESSURE FROM BUILDING UP AND LIFTING THE TOP RING OFF THE RING LAND ALLOWING COMBUSTION GAS TO GET BY. WHEN USING "D" WALL OR DYKES COMPRESSION RINGS USE THE END GAPPING METHOD WITH A SMALLER OR EQUAL GAP ON THE SECOND RING.
THE FOLLOWING END GAP RECOMMENDATIONS ARE GUIDELINES AND
MAY REQUIRE ADJUSTMENT FOR YOUR SPECIFIC APPLICATION
RING IDENTIFICATION
TOP RING: DOT ON TOP AND ID BEVEL WILL BE UP.
SECOND RING: DOT OR WORD TOP WILL BE UP AND THE ID BEVEL WILL BE DOWN.
TOP RINGS
STAINLESS CHROME, TOOL STEEL
SUPERCHARGED
DUCTILE MOLY, HTD
.009 PER INCH OF BORE
SUPERCHARGED
.008 PER INCH OF BORE
INJECTED FUEL
.007 PER INCH OF BORE
INJECTED GAS / ALCOHOL
.006 PER INCH OF BORE
CARBURETED GAS / ALCOHOL
.004 PER INCH OF BORE
SECOND RINGS
DUCTILE, MOLY & CAST IRON
SUPERCHARGED ALCOHOL
.007 PER INCH OF BORE
SUPERCHARGED GAS / FUEL
.0065 PER INCH OF BORE
INJECTED FUEL
.0065 PER INCH OF BORE
CARBURETED ALCOHOL / GAS
.005 PER INCH OF BORE